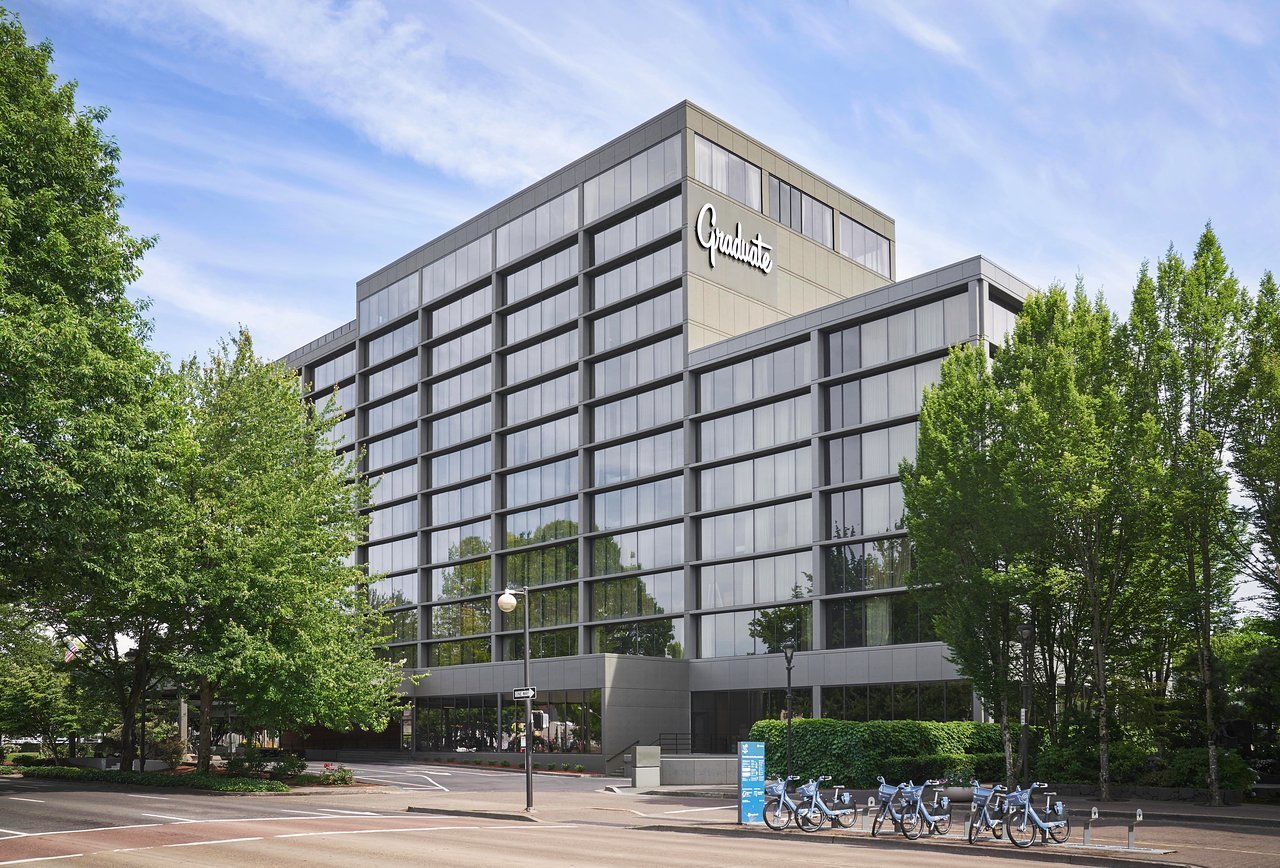 Business Travel Sales Manager – Eugene, OR
Posted February 3, 2020
Graduate Hotels®, Graduate Eugene is seeking a Sales Manager to join our team!
Graduate Hotels builds authentic, playful spaces that connect travelers, students, and locals. Through thoughtfully curated design, creative F&B and community-focused events, we create hotels worthy of their hometown.
We are a diverse team of experience makers and storytellers. As a Graduate Hotels team member, you are the local insider shaping guest experiences. Our goal is to make every guest feel like a local even if it's their first time in town. In order to help you deliver on that goal, we encourage our team members to embody the same mindset as our guests through Graduate experiences and encouraged community exploration with local establishments.
Our teams excel in delivering top results while introducing clients and guests to the design and service that have made us one of the fastest growing lifestyle brands in the country. There is never one right answer in hospitality. Come share your past experiences with us, to help write this textbook on service.
JOB DUTIES:
Responsible for learning the hotel(s) brand and strategy
Drive customer loyalty in order to grow share of the account by delivering service excellence throughout each customer experience
Manage business travel accounts to maximize business potential
Negotiate group business, guest room rates, meeting room rental, and hotel services within assigned markets that meets or exceeds hotel revenue goals
Responsible for obtaining appropriate approvals for contracts per SOP (airlines, major sporting events, etc...)
Negotiate contracts according to company standards
Be aware of departmental revenue and up sell at every possible opportunity
Ensure all pertinent aspects of solicitation, closing, and customer communications are complete and documented maintain existing accounts with active trace/follow up system
Ensure accurate and complete use of the sales system per SOP including recording all bookings and lost business
Identifies and solicits new accounts from telemarketing, appointments, site tours, cold calls, and inquiries via email, phone, and in person interactions
Develops, maintains, and prospects a Target List of accounts and communicates updates to DOS
Research and understand demand generators, new business sources, and use the internet as a prospecting tool
Prepares resumes for groups prior to group arrival and review all details in weekly meeting
Assist with all group rooming list, daily inspection of guest folio, communication with front office on group arrival, communication with accounting regarding guest billing, communication with Revenue Management team on group room block.
Conduct pre- and post-conference meetings when it is agreeable with the client
Attends property specific receptions to generate leads and interact with customers
Organize and execute local area blitzes
Implement special promotions relating to sales segment
Partner with third party meeting planners such as HelmsBriscoe, HPN, Conference Direct to generate additional leads and bookings
Establishes relationships with local businesses and organizations and is an active member in local industry associations
Builds relationships with competitors in like roles to keep apprised of trends in the market and industry, and supply changes
Conducts tours of the hotels and banquet facilities; entertains qualified potential clients in accordance with company and property policies and procedures
Provide prompt and accurate responses to all client requests for proposals and information
Consistently meet or exceed sales goals including predetermined revenue and sales activity
Completes daily/weekly/monthly reports as directed by the DOS/GM
Participate in Quarterly/Annual Business and Marketing Plans, assist with budget process
Attends appropriate trade shows, organizes sales trips in local market and feeder cities as directed by the DOS
Communicates any product or service issues to DOS or GM
Divides selling time equally between hotels or as directed by the DOS/GM
Maintains a presence and is accessible at each hotel per the direction of the DOS/GM
Work client-related special events
Abides by Prime Time Selling hours
Participates in MOD program as required
Other duties as assigned
DESIRED EDUCATION AND EXPERIENCE:
Minimum of High School education, post-high school education preferred
Minimum of 2 years in hotel customer service role or sales experience preferred
KNOWLEDGE, SKILLS AND ABILITIES:
Outgoing personality
Maintains a professional image at all times through appearance and dress
Ability to work collaboratively with hotel service team in providing exceptional customer service
Clear, concise written and verbal communication skill
Demonstrate ability to achieve sales goals
Proactive sales approach; assertive and fast paced, driven to succeed
Excellent time management skills
Understands need time strategy as developed by Revenue Management
Must have flexible work hours that may include evenings, weekends, and holidays
JOB COMPETENCIES:
Approachability
Coachable
Customer Focus
Interpersonal Savvy
Problem Solving
Functional/Technical Skills
Integrity/Trust
ABOUT US:
Graduate Hotels is a hand-crafted collection of hotels that reside in dynamic university-anchored towns across the country. Each hotel pays homage to the heritage of its unique town through cultural nods to the local community. Launched in 2014, there are currently 19 open and operating hotels across the U.S. and an additional 15 hotels under development slated to open by the end of 2020. Graduate Hotels is owned by Adventurous Journeys (AJ) Capital Partners, a Chicago-based vertically-integrated real estate developer, owner and operator. For more information on Graduate Hotels, please visit graduatehotels.com.
*Graduate Hotels Management is an Equal Opportunity Employer
66 East 6th Avenue
Eugene, OR 97401-2667